Our Spaces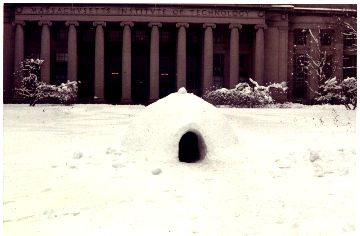 Starter home. Prime real estate. Warm and cozy.
Somewhat crowded until the bear woke up. We kicked him out.
Then the sun came out and we turned into a convertible.



This little tent saw the world.
It was the only dry place in wild Salzburg T-storms.
And of no interest to bears in the Rockies.
My bicycle's first trip: from the shop (Place d'Italie) to rue Monge, into the midst of a student riot w. CRS, fallout from 1968.
Second trip: zig-zag through Europe, Paris to Vienna, in search of Tilman Riemanschneider.
Third trip: This bicycle carried Bob over the Splugen Pass in the Alps from Frankfurt (Harry Thomas) to Milano (Tito Arecchi) in search of Atomic Coherent States


Our apartment near Cambridge. A happy crash-pad for us and many others.


Our first home, near Tampa, Florida. When we first moved in you could see
the home and the lake behind from the road.
Bob and Claire went crazy planting homeless trees,
and before you knew it we were living in a forest.
It was the coolest place in town.



The lake behind the house - Claire and Marc enjoying the water in the forest.
Dad, you keep telling me Santa doesn't exist. You're wrong as usual: I can see him already.


''Homer contemplating the bust of Aristotle.''



Our garrett during Summer 1970, while Bob was a visiting professor at
Johann Wolfgang von Goethe Universit\"at in Frankfurt/Main.
Our apartment during 1975-76 while Bob was a visiting professor at
Universit\'e Catholique de Louven in Louvain la Neuve, Belgium.



Our home in Alexandria, VA.
The stream in front attracted all sorts of gamin, like the little one on the left.




Our home in near Philadelphia, PA.




View from Claire's office at Trinity College, Dublin.
The (unreadable) fine print in gold says Book of Kells.








Last update: June 16, 2006